Don't Hide—Correct the Imperfections in Your Teeth
Veneers look natural and create a perfect option for patients all around Downers Grove and Elmhurst who want to make minor adjustments to the look and feel of their smile.
You no longer need to hide your smile because of gaps, chips, stains, or misshapen teeth. With veneers, you can easily correct your teeth's imperfections to help you have a more confident, beautiful smile.
Veneers are natural in appearance and a perfect option for patients at Premier Orthodontics & Dental Specialists looking to adjust the look and feel of their smile. Veneers are thin, custom-made shells made from tooth-colored materials such as porcelain.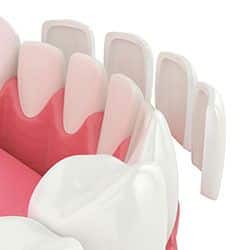 They are designed to cover the front side of your teeth. To prepare for veneers, Dr. Radu or Dr. Elbatanouny will create a unique model of your teeth. This model is sent to a dental technician who creates your veneers. Before placing your new veneer, our team may need to prepare your tooth conservatively to achieve the desired aesthetic result.
When Dr. Radu or Dr. Elbatanouny places your veneers, you'll be pleased to see that they look like your natural teeth. Though veneers are stain-resistant, at Premier Orthodontics & Dental Specialists we may recommend you avoid coffee, tea, red wine, and tobacco to maintain the beauty of your new smile.
Offering Veneers With Uveneer™
Uveneer is a type of direct composite veneer we use to improve the aesthetics of your smile. The tooth-shaded composite material is sculpted directly on the surface of your teeth, in contrast to traditional porcelain veneers, which are made in an off-site lab.
Creating Your Veneers
To create your composite veneers, Dr. Radu will press the translucent Uveneer template over the composite that has been laid on the tooth. The template is removed after the material has cured with a high-intensity light.
Uveneer creates composite veneers that are contoured and shiny like natural teeth, while reducing the time it takes to achieve optimal results. Uveneer composite veneers typically require minimal preparations, no molds, and no temporaries, so you can get the smile you've always wanted in just one visit!
Uveneer can be used for all composite veneer applications, for one or multiple teeth, to correct a variety of aesthetic concerns, including:
Diastemas (gapped teeth)
Fractures
Abrasions
Discoloration
Slightly crooked or misshaped teeth
Caries restoration
Taking Care of Your New Smile
For the best, longest-lasting results, you'll need to follow Dr. Radu's recommendations for proper oral hygiene and avoid habits that could damage your restorations.
Brush at least twice a day, floss once a day, and schedule regular visits to Premier Orthodontics & Dental Specialists for routine exams and cleanings. Avoid biting your fingernails and chewing on hard objects, since direct composite bonding materials can be prone to chipping.